Hosted by
Skittles
at
Heads or Tails
Let's Hear it for the Best Laid Plans ...
that Often go Awry!


Yup ... I planned ahead & created a 'lovely' collage illustrating the 'Evolution of my Hydrangea this Spring' ... but when I looked for it last night, I couldn't find it.

I have no idea what happened ... thought it might be because I was T I R E D last night ... but I'm having no more luck locating it this morning and I've got my Photoshop Class today. So here's my offering for

this week's Heads or Tails theme: Flower

. If this little daisy can survive in such 'challenging' surroundings ... I'll be fine too (and so will you)!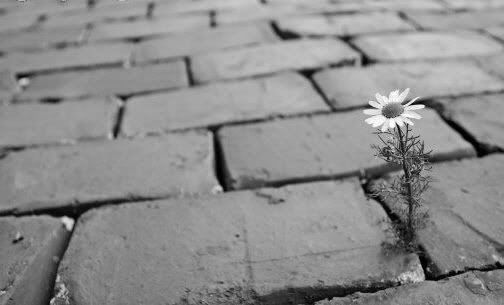 Image found at Photobucket

Click for others participating in HoTs this week.
Next week's theme/prompt is:
HEAD

S
*OR*
TAIL

S
-
Wait *OR* Weight
~ ~ ~ ~ ~
Click for more posts with
Flowers from My Garden

.
Thought for Today
"The greatest gift of the garden is the restoration of the five senses."

Hanna Rion